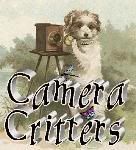 Week 42, 2012
Kom `s kijken!




Meet some of the stars...
My contribution for this weekend.
Amongst my hobby's there is this "urgent need to collect" colored mice.
Today I want to show you four of my "stars"...
Sadly all four of them are no longer with us, they went to "Mouse Heaven" some time ago. My hobby continues tho...
Today's count = 16 colored mice & 3 African zebra grass mice.
I.L.M. of Plumeau, Momo, Nemo & Fuzzy Mo...
Plumeau


Next time some of my living friends again!
Mijn bijdrage voor dit weekend.
Tot mijn hobby's behoort onder andere ook de "urgente behoefte" kleurmuizen te "verzamelen".
Vandaag wil ik jullie vier van mijn "stars" laten zien...
Helaas zijn allen vier niet langer onder ons, ze zijn allen alweer een tijd geleden naar de "Muizen Hemel" vertrokken. Mijn hobby zet zich wel voort...
Telling vandaag = 16 kleurmuizen & 3 Afrikaanse Zebragrasmuizen.
I.L.H. aan Plumeau, Momo, Nemo & Fuzzy Mo...
En er is nog zo veel meer waar dit allemaal vandaan komt...

De volgende keer weer enkele van mijn levende vriendjes!